Progression micrograduée dans l'entraînement à la vision dans l'espace et à la description anatomique
Anatomy teaching for first year medical sciences students in Liege Medical School, Belgium, is based on both lectures and e-learning. An introductive lesson on anatomical description has been developed on e-learning as a tool for description and spatial view training. That first on-line lesson has been constructed by identifying the conceptual requisite to understand anatomy and its specific descriptive language, by dissection and finally by organisation of those requisites to allow generalisation and transfer. The lesson conception gives the students the opportunity to practice the exercise at their own rhythm trough all the steps of the reflective process. That e-learning lesson has been regulated by a follow-up of two years practice in real conditions. This article emphasizes the methodological principles which are the base of the micro graduated structure of the distance course.
Le cours d'introduction à l'anatomie en Faculté de médecine, ULg, Belgique intègre une formation à distance et un cours présentiel. Un module introductif a été développé en EAD pour fournir une méthode progressive
d'entraînement à la vision dans l'espace et à la description anatomique, sur la base des concepts prérequis indispensables à la compréhension des autres modules. Ces concepts identifiés ont été disséqués puis organisés pour permettre la généralisation et ensuite le transfert, et pour que tous les étudiants puissent réaliser à loisir les exercices, passant par toutes les étapes des raisonnements suivant leur rythme personnel. Ce module a été régulé après deux années d'utilisation en situation réelle. Cet article met l'accent sur les principes méthodologiques qui fondent la structure micrograduée du cours à distance.
Fichier principal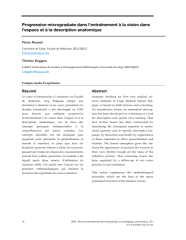 RITPU_Bonnet_Reggers_03-01.pdf (1.66 Mo)
Télécharger le fichier
Origin : Explicit agreement for this submission