Variété et progressivité : deux clés de la motivation dans des activités de botanique en ligne
This project concerns the design for a botanic online course of first year bachelor of bioengineer at the Faculté universitaire des Sciences agronomiques de Gembloux (FUSAGx) – Belgium. It is, in other words, a module that allows revising the practical works, intended for students who repeat their first year and who are not exempt from the botanic lessons. By exposing some notions, which marked the online course conception choices, this article partly shows the reflection process during the different stages of the creation. In conclusion, three elements are exposed: the first concerns the consideration of learners' specificities, the second touches on the development impact of this course into the institution and the third
underlines the importance of using conceptual models.
Le projet concerne la construction d'un cours en ligne de botanique du niveau de premier bachelier bioingénieur à la Faculté universitaire des Sciences agronomiques de Gembloux (FUSAGx) – Belgique. Il s'agit d'un module de révision des travaux pratiques, destiné aux étudiants redoublants non dispensés du cours de botanique. En exposant quelques notions qui ont marqué la conception du cours en ligne, l'article illustre une partie de la démarche de réflexion suscitée au cours des étapes de création. En conclusion, trois éléments sont mis en évidence : le premier concerne la prise en considération des spécificités des apprenants, le deuxième évoque l'impact du développement de ce cours au sein de l'institution et le troisième souligne l'importance de l'utilisation de modèles conceptuels.
Fichier principal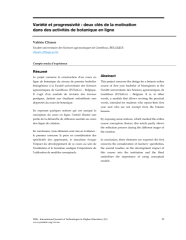 RITPU_Clissen_03-01.pdf (314.13 Ko)
Télécharger le fichier
Origin : Explicit agreement for this submission