Une méthode en 4 x 4 pour l'analyse des besoins et la régulation en FAD
The production of a distance learning training is a permanent process of analysis and regulation centered on the needs of the target public. In the training "Cap sur les méthodes de travail" (Cap MDT) aimed at students of higher education (HE), this process is compared to a "path leading through four circular and progressive quarters (4 x 4)". A loop of this path (regulation loop) consists of four phases enabling to enquire about "Who" wants "What", "Why" and "How" in this distance learning module. These four particular lights come from designers, potential users, experimenters and effective users who give elements of answers to these questions. Throughout the whole project of production of the course, each loop of this 4 x 4 method questions the device and produces avenues of regulation, in a context where the audience, the needs and the resources are in constant evolution.
La production d'une formation à distance (FAD) est un processus d'analyse et de régulation permanentes centré sur les besoins du public cible. Dans la formation « Cap sur les méthodes de travail » destinée à des étudiants de l'enseignement supérieur (ES), ce processus est comparé à un parcours en « 4 x 4 circulaire et progressif ». Une boucle de ce parcours (ou boucle de régulation) comporte quatre étapes permettant de s'interroger successivement sur « Qui » veut « Quoi », « Pourquoi » et « Comment » dans cette formation à distance. Quatre éclairages particuliers donnés par les concepteurs, des utilisateurs potentiels, des expérimentateurs et des utilisateurs effectifs apportent des éléments de réponse à ces questions. Tout au long du projet de production de la formation, chaque boucle de cette méthode 4 x 4 remet le dispositif en question et produit des pistes de régulation, dans un contexte où le public, les besoins et les ressources sont en continuelle évolution.
Fichier principal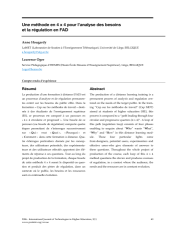 RITPU_hougardy_oger_03-01.pdf (1008.99 Ko)
Télécharger le fichier
Origin : Explicit agreement for this submission