Tuteurs et tutorés sur le campus numérique FORSE
This article presents a content analysis of exchanges on a distance learning numerical
campus. We seek to observe the place of the campus actors : students, tutors, administrators...
Generally speaking, new models tend to emerge with the ICTs in the world of distance
learning. They carry remnants of traditional distance learning - without the ICTs - , but are
also defined by innovative ambitions and the obvious industrial constraints. With this in mind,
how do the tutors negotiate their place, their field of competences ? Are they companions of
formation, slightly more advanced pars, or institutional actors ? It thus appears necessary to
us to begin a work of practice survey within these new paradigms of distance learning with
the ICTs. An approach using discourse analysis seems to us to be useful here.
Cet article présente une analyse de contenu des échanges sur la plate-forme numérique d'une
FAD en licence de sciences de l'éducation. Nous cherchons à observer la place des acteurs
dans la formation : étudiants, tuteurs, administrateurs... D'une manière générale, dans le
monde de la FAD, de nouveaux modèles émergent avec les TIC. Ils portent à la fois des traces
des FAD classiques - sans les TIC -, aussi des ambitions novatrices et des contraintes
industrielles évidentes. Sous cet angle, comment les tuteurs négocient-ils leur place, leur
champ de compétences ? Sont-ils des compagnons de formation, des pairs légèrement plus en
avance, ou bien des acteurs institutionnels ? Il nous paraît nécessaire d'engager un travail de
repérage des pratiques, au sein de ces nouveaux paradigmes de FAD médiées par les TIC.
Une approche par l'analyse des discours nous semble ici utile.
Fichier principal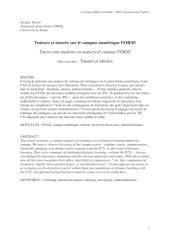 Bziat_Eifad04.pdf (288.93 Ko)
Télécharger le fichier
Origin : Files produced by the author(s)