Implementação da Educação a Distância na Universidade de Cabo Verde: Análise de uma Experiência-Piloto
The development and spread of networks of communication and the ability to learn collaboratively at a distance are providing new scenarios for learning and training, with contours not yet fully defined. It is against this background that the public University of Cape Verde (Uni-CV) has tried to create conditions for the operation of these modes of teaching (e-learning and b-learning). This paper aims to present and analyze an experience at the Uni-CV by the working group for implementation of the Center for Distance Education at the University of Cape Verde in the 2008/2009 academic year, whose main task is to promote the enrichment of classroom and increased interaction between students and teachers contributing to the operationalization of the proposed University Network and meaningful learning in the Uni-CV. The pilot project developed in the academic year at Uni-CV, using the Moodle platform and with the collaboration of two trainers from the University of Minho is part of the recommended strategy for fulfilling the assignment above. The target audience for the pilot project was set for thirty nine hundred teachers and students (one class for each teacher at least thirty students) and the main results were: (1) subjects created in Moodle with essential contents and programs available, (2) tools for interaction with students are heavily used (mainly Discussion Forum), (3) classroom supplemented and enriched.
O desenvolvimento e a generalização das redes de comunicação e a possibilidade de aprender colaborativamente a distância estão a proporcionar novos cenários de aprendizagem e formação, com contornos ainda não completamente definidos. É neste cenário que a Universidade Pública de Cabo Verde (Uni-CV) vem tentando criar condições para a operacionalização destas modalidades de ensino (e-learning e blearning). A presente comunicação visa apresentar e analisar uma experiência desenvolvida na Uni-CV pelo grupo de trabalho para implementação do Núcleo de Educação a Distância na Universidade de Cabo Verde no ano lectivo 2008/2009, cuja principal atribuição consistia em fomentar o enriquecimento das aulas presenciais e o aumento da interacção entre os estudantes e docentes contribuindo assim para a operacionalização do projecto de Universidade em Rede e de aprendizagem significativa na Uni-CV. A experiência-piloto desenvolvida, neste ano lectivo na Uni- CV, com recurso à plataforma Moodle e que contou com a colaboração de dois formadores da Universidade do Minho faz parte da estratégia preconizada para o cumprimento da atribuição acima referida. O público-alvo da experiência-piloto foi constituído por trinta docentes e novecentos estudantes (uma turma para cada professor, com pelo menos trinta estudantes) e os principais resultados foram: (1) disciplinas criadas na plataforma Moodle com programas e conteúdos essenciais disponibilizados, (2) ferramentas de interacção com os estudantes intensamente utilizadas (sobretudo Fórum de discussão), (3) aulas presenciais complementadas e enriquecidas.
Fichier principal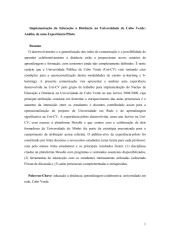 Comunicacao_II_Bienal_-_EaD-1.pdf (692.67 Ko)
Télécharger le fichier
Origin : Files produced by the author(s)